A 29-year-old man has been charged with promoting prostitution following an investigation by the Cook County Sheriff's Police Vice Unit, Sheriff Thomas J. Dart announced today.
On Feb. 19, a Sheriff's Police undercover officer responded to an advertisement in the escorts section on Backpage.com. The officer was told to meet at a Schiller Park hotel room. After an agreement was made to exchange money for sex acts, the 20-year-old woman was taken into custody.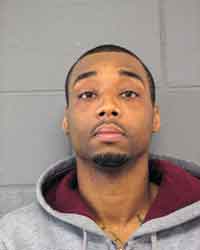 During their investigation, Sheriff's Police Vice officers learned that Jamal Shells had rented rooms for the woman, that he knew prostitution was occurring in those rooms and that he would profit from the prostitution. Officers also learned that Shells had battered the woman earlier that day.
Vice Unit officers located Shells at a sandwich shop in the 4100 block of Mannheim Road in Schiller Park and took him into custody. Shells, of the 2700 block of W. Washington Boulevard in Chicago, has been charged with promoting prostitution and domestic battery. He is scheduled to appear for a bond hearing today at the George N. Leighton Criminal Court Building.
Sheriff Dart reminds the public that the defendant is presumed innocent until proven guilty by the government in a court of law.