Cook County Sheriff Thomas J. Dart announced today that a 20-year-old Minnesota man has been charged in connection with a fatal shooting that occurred last month in Robbins.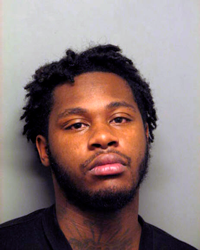 TreDaniel Williams was denied bond during his court appearance on Thursday at the Markham Courthouse. He has been charged with murder and attempted murder.
On the morning of Aug. 8, Sheriff's Police Detectives were requested by Robbins Police to investigate a shooting in their jurisdiction.
Detectives learned that a 29-year-old Berwyn man and a 27-year-old Chicago man had been shot at approximately 1 a.m. on Aug. 8 in the 13500 S. St. Louis Avenue. According to the investigation, the offender shot the victims during an apparent drug deal. The 29-year-old victim was pronounced dead at an area hospital. The 27-year-old victim's injuries were not life threatening.
During their investigation, Sheriff's Police detectives identified the offender as Williams and learned that he may have fled to Minneapolis, Minn., where he is from.
An arrest warrant was issued for Williams on Aug. 10. The FBI Violent Crimes Task Force took Williams into custody in Minneapolis on Aug. 12. He was taken to Hennepin County Jail. Williams, who waived extradition, returned to Cook County on Aug. 31.
Sheriff Dart reminds the public that the defendant is presumed innocent until proven guilty by the government in a court of law.