A 19-year-old man is facing murder charges following a South Suburban Major Crimes Taskforce Investigation, Cook County Sheriff Thomas J. Dart announced today.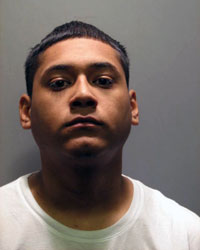 Eduardo Ocampo, of Harvey, was arrested on Sunday, April 17, less than 36 hours after the homicide of Gabino Barrera. On Saturday, April 16, just one day after Barrera's 18th birthday, Dixmoor Police responded to a call of shots fired and found Barrera in the driver's seat of a truck located on the 14000 block of Western Ave. He was pronounced deceased on the scene with several gunshot wounds.
Dixmoor Police requested that Cook County Sheriff's Police assist in the investigation, in addition to activating the South Suburban Major Crimes Taskforce. After an investigation, detectives identified Ocampo as the suspect and brought him into custody.
Ocampo faces one count of 1st degree murder. He is currently being held at Cook County Jail on a 1 million dollar bond. His next court date is on May 9th, 2016 at 9:00am at Markham Courthouse.
Sheriff Dart reminds the public that the defendant is presumed innocent until proven guilty by the government in a court of law.